Partner Products
Greg's Showcase and Spirit Connections
Shop 14 The Galleria Ettalong Beach NSW
This great storefront at the Galleria offers a wide range of products and Services. Each week there will be a different product showcased. But first, to introduce Greg and Sandy.
Sandy Cee
Sandy Cee is a psychic medium, healer and Traditional Reiki Master Level Practitioner. She runs past life regression workshops and offers a range of readings as well as healing services. For more information drop into the store or visit www.spiritconnections.com.au
Greg Cohen
Greg Cohen specialisies in minerals, crystals, gemstones and fossils, many of which are on display in the spirit connections shop. Ranging from raw stones, to polished fossil specimens to Cut gemstones as well a jewelery this is a range well worth seeing. For more information see www.gregsshowcase.com.au.
Khel'Shen Akh'Hon Kyshera Du'Skhall Kre'Mashen Akh'Hense.
Product of the Week
Crystal Trees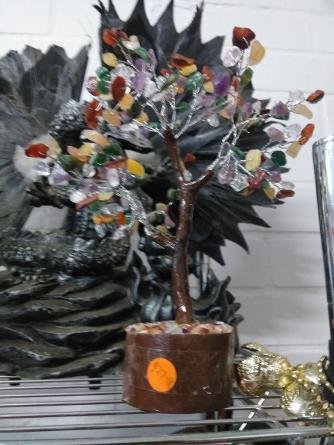 With some great new stock coming in just in time for Christmas, come and see these crystal trees today. Available in many crystals, they have healing properties as well as a very versatile ornamental piece. There are many in clear quartz and amethyst, which are very popular stones for many purposes. Both good space clearers which aid keeping away negativity, they are a good Christmas gift at affordable prices.
Come down and take a look today
Feature Crystal
Selenite Spheres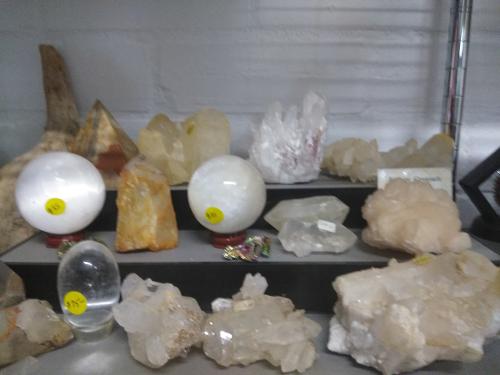 Crystal of Week
Selenite Spheres
Selenite, a soft crystal which carries a higher octave of quartz, is a crystal that is fast gaining popularity in many shapes. From the distinctive tiered selenite towers, sometimes used as lamps, to bars, to the carved spheres and eggs that is our feature today, this crystal is one that allows connection to higher energies. I have a bar and tower on my altar that do different jobs, the bar as an energy holder and the tower as an antennae, but I love these stunning selenite orbs and eggs.
A shape of a high frequency crystal that echoes the famous divination quarts crystal ball, this are a powerful tool to bring higher energy frequency into your space or working, or just to raise the vibrational frequencies of your home. With a form seeming to combine the two forms of selenite in one orb, these are definitely for me a bank account says no moment... Leaving them for you to buy. Come in and have a look today.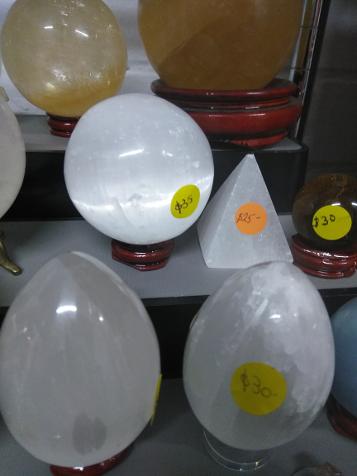 Fossil Corner is a good place to look for a unique and spectacular gift in time for Christmas. From affordable Ammonite shells to large opalised fossil statement pieces, hand cleaned and polished. Each piece is rare and unique, each piece with it's own energy.
Ammonites, for instance, have history of being used as a wedding gift, sliced in half, being given as wedding presents, representing two parts of the journey coming together as a whole. They also draw off negative energies, like a filter drawing in dense energies. At the moment, with the accelerated growth at this karmic time, I am also seeing them as a symbol of the spiral of upward growth we are in at the moment. They represent the acceleration of time and growth at this time, which makes them especially relevant.
Other examples include polished coral fossils such as Hexagonoria, a genus of Colonial Rugose coral. Consisting of Hexagonal cells encasing circular coral structures, this honeycomb seems to amplify energy.
Look for these and many more at Gregs Showcase today.